Montclair Chamber of Commerce E-Waste Event
9:00am - 2:00pm
Montclair Chamber of Commerce
8880 Benson Avenue, Montclair, CA 91763
---
The Montclair Chamber of Commerce will be hosting a Free E-Waste Event! 🖥🖨💻
🗓 November 20 & 21
9:00 am – 2:00 pm
📍Montclair Chamber of Commerce Parking Lot
8880 Benson Avenue
Montclair, CA 91763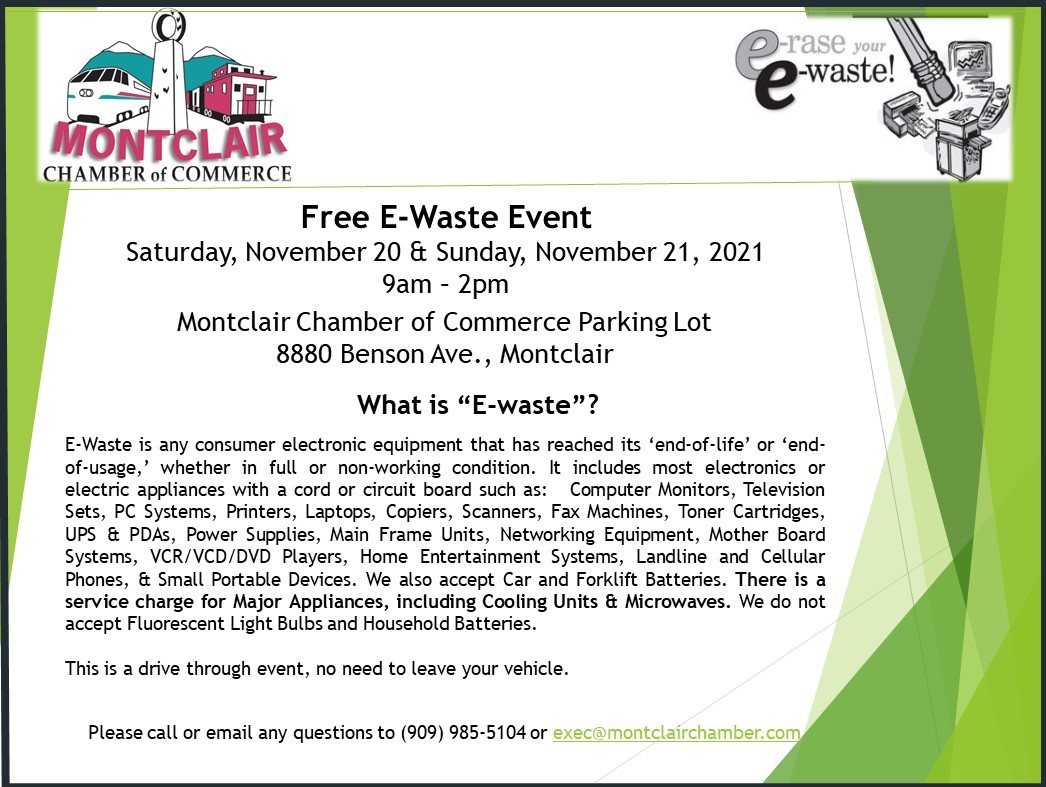 🔌 What is E-waste?
E-waste is any consumer electronic equipment that has reached its 'end-of-life' or 'end-of-usage,' whether in full or non-working condition.
It includes most electronics and electric appliances with a cord or a circuit board such as: Computer monitors, television sets, PC systems, printers, laptops, copiers, scanners, fax machines, toner cartridges, UPS & PDA's, power supplies, main frame units, networking equipment, mother board systems, VCR/VCD/DVD players, home entertainment systems, landline and cellular phones, and small portable devices. Car and forklift batteries will also be accepted.
There is a service charge for major appliances, including cooling units and microwaves.
Fluorescent light bulbs & household batteries will not be accepted. 💡🔋
This is a drive through event, no need to leave your vehicle. 🚙
If you have any questions, please email exec@montclairchamber.com