National Night Out! / Movie in the Park: LUCA (PG)
6:30pm - 9:30pm
Alma Hofman Park
5201 Benito Street, Montclair, CA 91763
---
National Night Out!
It's once again time for National Night Out, scheduled on Tuesday, August 2nd, 6:30 pm – 10:00 pm, at Alma Hofman Park.  National Night Out is a community-police awareness-raising event in the United States, held the first Tuesday of August.  The event has been held annually since 1984 and is sponsored by the National Association of Town Watch in the United States and Canada. The event is meant to increase awareness about police programs in communities, such as drug prevention, neighborhood watch and other anti-crime efforts.
The Montclair Fire and Montclair Police Department will be on hand to speak to the public and allow kids the opportunity to see and handle some of the tools of the trade. The American Red Cross will be set-up for blood donations at the Community Center Gym from 2:00 pm – 8:00 pm. We will have a free photo booth and free face painting for the kids, as well as giveaways such as coloring books, crayons, and fingerprint ID kits. "East Los Tacos" will be selling some of their delicious food and "Sweetnsnowie" will be selling cold treats. The movie "Luca" starts at about 8:00 pm.  Please come out and enjoy the fun!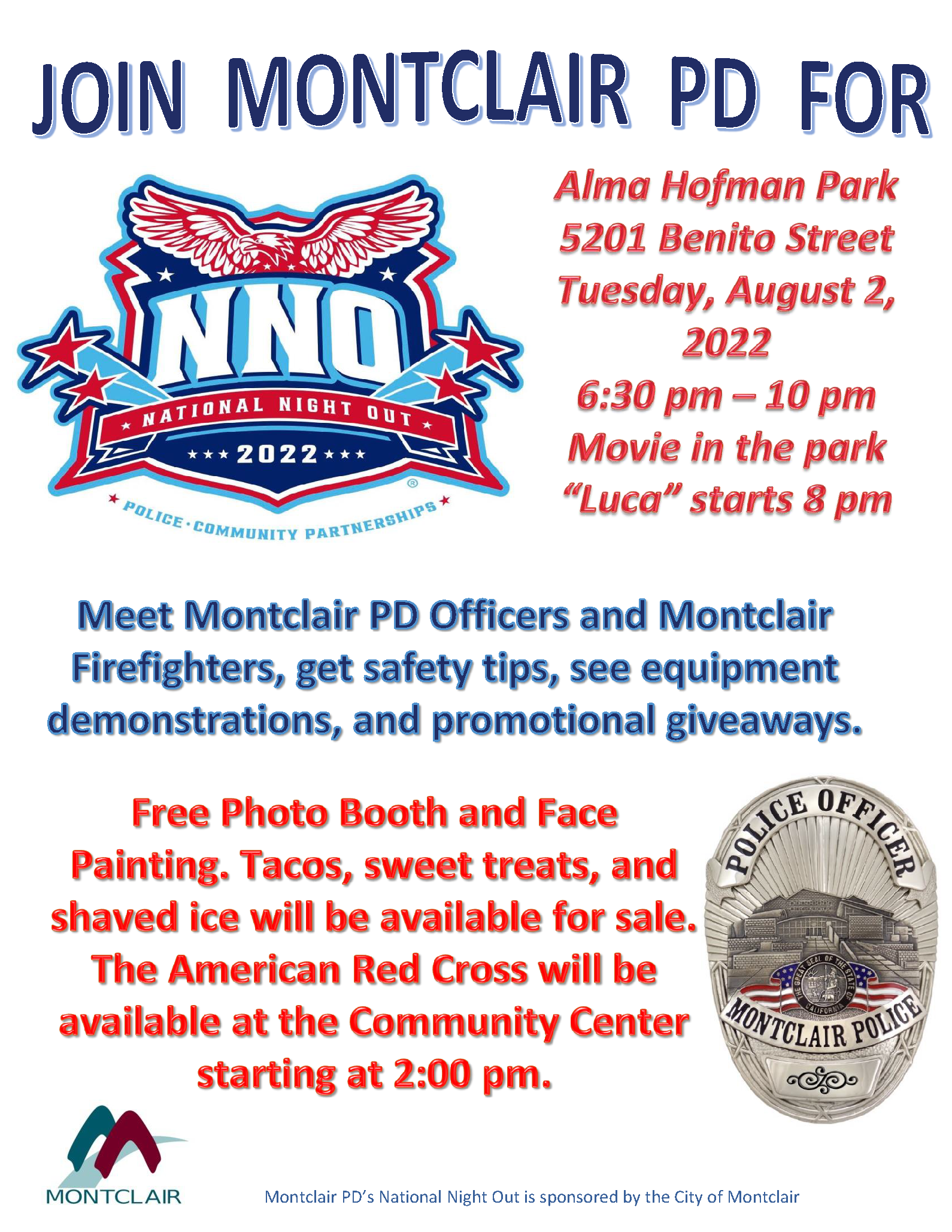 LUCA
(Rated PG)
Tuesday, August 2, 2022

 8 PM

 Alma Hofman Park (Shark Park)
5201 Benito Street
Bring your family, lawn chairs, and a picnic dinner, and enjoy an evening in the park!
 Food Trucks will be selling your favorite foods and snacks. 
 The Splash Pad will remain open until 8 PM. 
For more information, contact the Human Services Department at (909) 625-9479 or visit www.cityofmontclair.org/summer-concerts-movies-series
We hope to see you there!