Honorable Mayor and City Council:
Over the past several weeks San Bernardino County has seen a significant increase in COVID-19 case rates and positivity rates. This increase is likely due to several factors including reopening of the state on June 15, spread of the Delta Variant, the Independence Day Holiday, and the county's relatively low vaccination rate.
Below are two tables that shows the progression of San Bernardino County's Case and Positivity rates since June 15 when the County's case rate (cases per 100,000) was at 1.2 and the positivity rate was 0.8. Today the County's case rate is 6.5 cases per 100,000 population and the positivity rate is 3.9 percent. This represents a 5 percent increase in the County's case rate over a 36-day period. If the state was still utilizing the Blueprint for a Safer Economy, San Bernardino County would be in the Red Tier.
Out of growing concern for these rate increases, the County is taking the following precautionary steps:
Re-activation of the COVID-19 Task Force to monitor the situation and maintain contact with municipal agencies.
Increase messaging regarding the importance of vaccinations and being safe at work and outside of work.
Re-activation of the County's Skilled Nursing Facility (SNF) Task Force, and actively reach out to the skilled nursing and long-term care facilities to provide infection prevention education, PPE, and the offer of testing and vaccinations.
Focus vaccination efforts on areas in the county with the lowest vaccination rates.
Develop a "Safe Back to School" community messaging campaign in partnership with public school superintendents, private schools, colleges, and universities.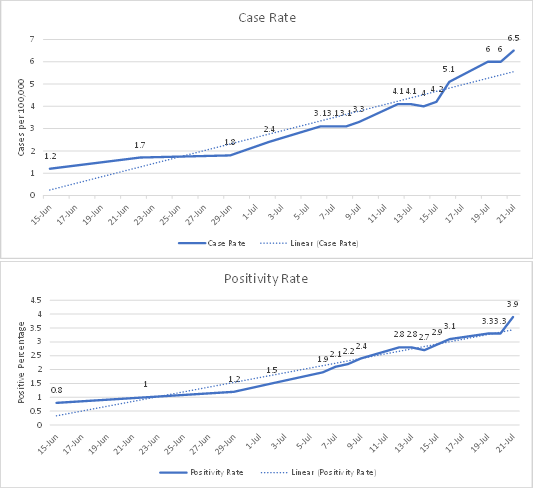 For comparison, case rates and positivity rates for neighboring counties and select counties in Northern California are indicated in the table, below.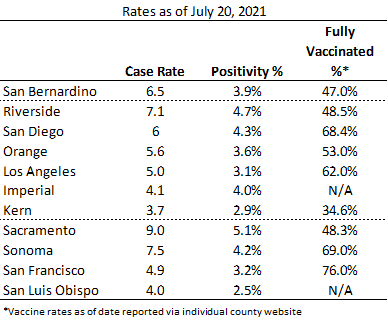 The Delta variant now accounts for more than 51% of new COVID-19 cases across the country. Los Angeles County public health officials recommend everyone wear masks when indoors, regardless of their vaccination status. The City of Pasadena recently ordered that all employees of the City be vaccinated. At the state level, Governor Gavin Newsom stated today that a mask mandate may not be needed if California's vaccination rate increases. San Bernardino County public health officials have taken no positon on an indoor mask mandate at this time.
The Delta variant is more infectious and is contributing to a growth in cases especially among unvaccinated and young people. According to the California Department of Public Health (CDPH), across California the vast majority of people who are now being hospitalized or passing away due to COVID-19 have been unvaccinated. The Delta variant has become California's most identified strain of the coronavirus, accounting for 35.6% of the variants analyzed in June, a steep increase from May when the number was just 5.6%, according to the CDPH.
Los Angeles County health officials have said that county's recent increases in daily infections and positivity rate are being fueled by the rise in COVID-19 variants, particularly the Delta variant. With 4 million residents in Los Angeles County still unvaccinated, including 1.3 million children who aren't eligible for shots, the Delta variant poses a significant public health risk to Los Angeles County residents and visitors.
According to the California COVID-19 Vaccination Tracker, statewide there have been approximately 44,213,927 vaccine doses distributed; 25,046,828 Californians (about 63.4% of the total population) have received at least one vaccine dose; and approximately 20,970,064 Californians (53% of the total population) are fully vaccinated. An estimated 80.1% of the over 16 population have received at least one dose; about 65.5% of the over 16 population is fully vaccinated; and about 62.9% of the adult population is fully vaccinated.
In San Bernardino County there have been approximately 1,789,934 vaccination doses distributed; an estimated 983,453 residents (45.76% of the total population) received at least one dose; and approximately 856,220  residents (39.84% of the total population) is considered fully vaccinated.
In Montclair, 17,677 residents are fully vaccinated (53.5% of the total population), and 2,480 residents (7.5% of the total population) are partially vaccinated.
Respectfully,
Edward C. Starr
City Manager