Economic Development Publication
Commercial, Retail, Industrial, Office, and Vacant Sites
The City of Montclair's Inventory of Available Properties (Inventory) is designed to assist those seeking available commercial, business park, office, and vacant sites. The Inventory contains contact information for properties currently available for lease or purchase.  Brokers, property managers, and property owners who would like to have sites listed on this publication may submit an email requests for inclusion in future editions of the Inventory.  In an effort to keep the Inventory current, please email property updates, requests, or changes to  tmartin@cityofmontclair.org
City of Montclair staff, in cooperation with area brokers, can assist businesses interested in locating commercial,  industrial, office and vacant parcels in Montclair with online custom site searches within the City.  Customized property reports can be requested by email to tmartin@cityofmontclair.org.
Click below to view the City's most current updates.
Available Properties for Sale or Lease:
Properties for Lease April 2021
Properties for Sale April 2021
Community & Economic Development '19 Inventory of Available Property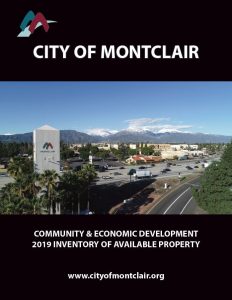 Past Inventory of Available Property Booklets
DEMOGRAPHIC REPORTS
The City of Montclair staff is ready to assist you or refer you to appropriate agencies to take the necessary steps to start your company, relocate, and/or expand your business by providing you with a comprehensive listing of the latest demographic reports by ESRI.  The ESRI demographic reports serve as useful tools to help analyze and review population, income, sales, ethnicity, and much more within Montclair's dynamic trade area.
ESRI 2020 Demographic Reports reflecting a 3-mile, 5-mile and 10-mile Trade-Area                                    (Centered at 5060 Montclair Plaza Lane, Montclair, CA)
Please click on the links below to view reports.
2020 American Community Survey (ACS) Population Summary
2020 Disposable Income Profile
2020 Health and Beauty Market Potential

Trade Area Infographic Nov. 2020 Half -Sheet
For additional information, contact Economic Development Coordinator/Housing Associate Thailin Martin:  via phone: (909) 625-9417 or via email: tmartin@cityofmontclair.org