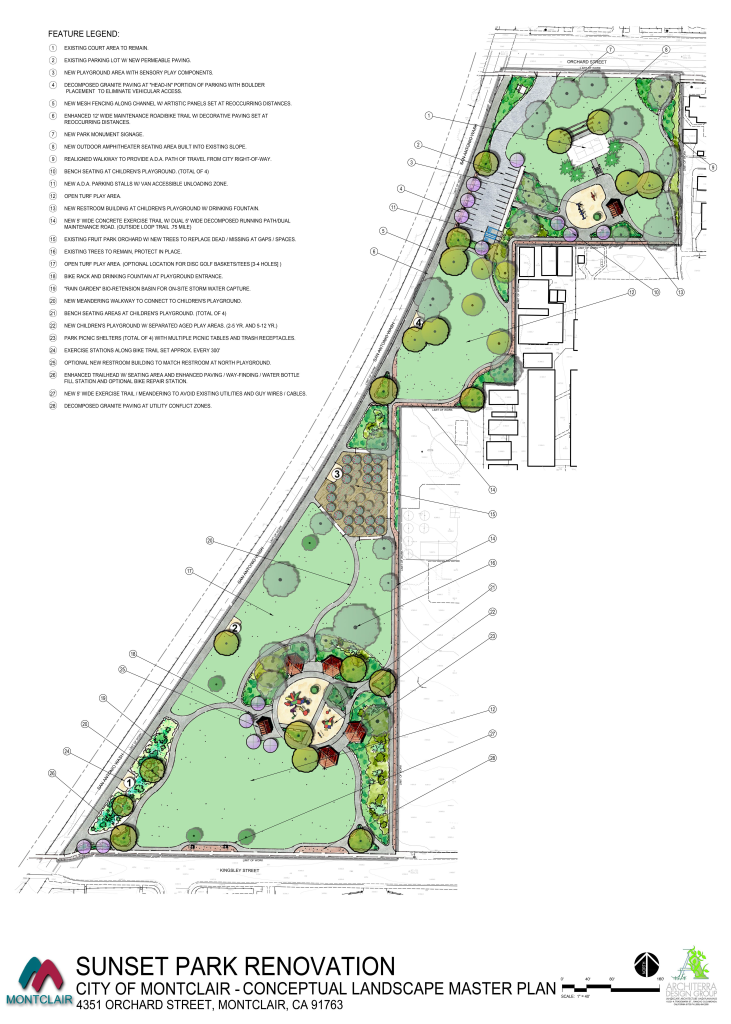 The Sunset Park Beautification project is being designed to provide various new and rehabilitated existing park amenity areas.  These park amenities include the construction of a concrete lighted walking trail along the perimeter of the park and interconnected pathways, an outside theater area near the north parking lot with a playground area in close proximity, refurbished community fruit park, new automated self-cleaning bathrooms near playgrounds, drinking fountains, benches, several exercise stations, and fun river and creek themed south playground area for the kids with adjacent aesthetically unique covered picnic bench clusters where parents can comfortably watch their children play activities.  These improvements are intended to enhance the entirety of the park and provide a special recreational experience.
In addition to the wonderful new and enhanced park amenities, the park will serve as the pilot leg for the future build-out of San Antonio Creek Trail which was planned with funds from the 2019 Caltrans Sustainable Community Planning Grant.  The Sunset Park trail segment will be lighted with security features and will include interesting pavement art and artistic fence features to add to the recreational interest for people enjoying a safe creek walk, run, or a bicycle ride.
When the entirety of the trail is completed, the trail will run along the San Antonio Creek Channel through Montclair, near the City's western boundary.  The trail will provide alternative non-motorized commuter and recreational connections to schools and colleges, parks, local transit connections, shopping centers, dining, entertainment, housing, and the regional Pacific Electric Trail.  Using the trail to get to destinations provides a healthy and fun alternative to the typical drive and enhances quality of life in our neighborhoods.
All of the park improvements are designed to be sustainable, climate friendly, and low impact development strategies.  Planting includes low water use, drought tolerant native trees, shrubs and ground cover that are uniquely adapted to the local environment.  Irrigation will be upgraded to meet all State of California water use efficiency mandates.  On-site water retention is achieved using a bioswale/rain garden that features native water saving plants, and permeable parking lot paving to increase rain capture resource features.
This substantial park is located near two major schools Leigh Elementary and Montclair High School and in a neighborhood composed on multifamily and single-family homes affording a convenient and multi-faceted recreational area for residents to play, relax, exercise, and enjoy the outdoor environment and beautiful scenic vistas.
Funding for these community requested improvements comes from California Park & Recreation Grants, Clean California Grant, and the City's local bond money.  Construction of the park improvements is expected to begin in October 2023 with a completion date on or before June 2024.  Sunset Park Beautification Project will renovate and offer substantial community benefits for all ages and is sure to be a treasured asset for years to come.
If you have any questions or would like additional information, please contact Rosemary Hoerning, Executive Director of Engineering/Major Projects Manager at (909) 625-9446 or James Diaz, Public Works Inspector at (909) 625-9442.