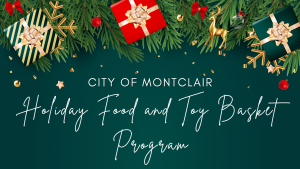 For 37 years the City of Montclair has been providing holiday food and toy baskets to Montclair families in need and we are asking for your help toward this successful and worthwhile project. Last year we served over 500 of our Montclair neighbors entirely through donations of food, toys, and cash from businesses and individuals throughout the community. We hope we can count on your support to assist us this year.
Join us in helping members of the Montclair community! Monetary donations can be made online at Montclaircf.org/Donate
If you have any questions, please contact Alyssa Colunga at (909) 625-9459 or acolunga@cityofmontclair.org.