Youth Basketball League
The Youth Basketball League is back this winter!  The first day of registration will be held on Saturday, September 10 at the Montclair Youth Center from 8:00 a.m. – 12:00 p.m. or until each Division is filled. Thereafter, registrations will be taken at the Montclair Recreation Center, Monday-Thursday from 9:00 a.m.- 6:00 p.m.
The league is open to boys and girls born 2009-2016 or in 1st-8th grades.
Division A – Children born 2009-2010
Division B – Children born 2011-2012
Division C – Children born 2013-2014
Division D – Children born 2015-2016
The league fee is $45 for Division D and $65 for Division A, B, and C which includes a jersey, trophy, and pictures. A birth certificate is required to register. Register as soon as possible, space is limited!
Games will be played at the Montclair Community Center Gymnasium starting Saturday, January 7, 2023. Volunteer coaches are needed for all Divisions.
For more information, please call (909) 625-9496.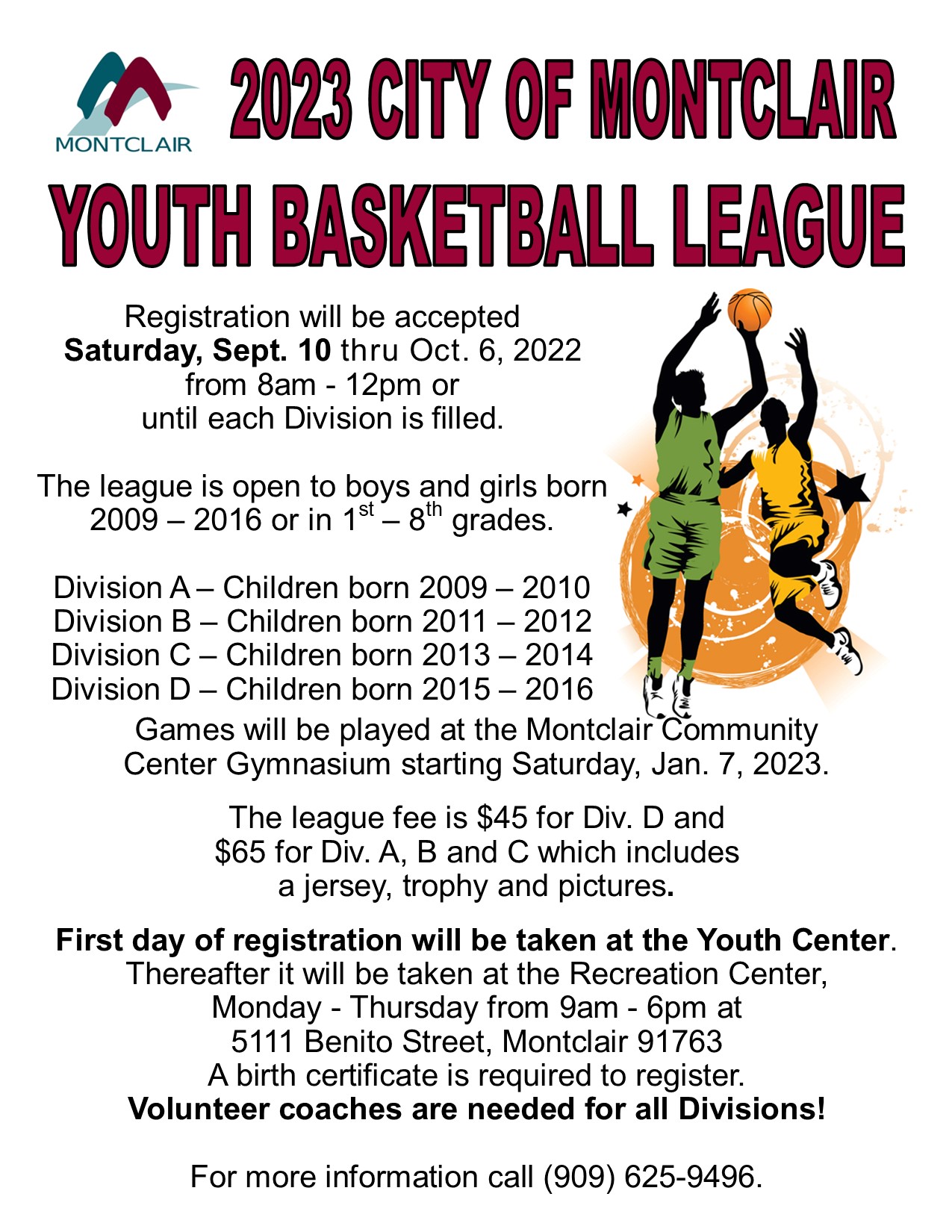 Additional Youth Sports Leagues that Serve Montclair
The City of Montclair does not administer the operations of the youth leagues listed below. The contact names and phone numbers are provided for your information.
Sport League

Contact Information

All Cities Youth Baseball
Ages 4-14

Email: ACYB@yahoo.com

Facebook: Montclair Pony

Montclair Little League
Email: montclairlittleleague@gmail.com

leagues.bluesombrero.com/montclairll

Facebook: Montclair Little League

Challenger Little League

Servicing children with Special Needs

Mariza Hernandez - (909) 678-0076
AYSO Soccer--Montclair Region #66
(909) 391-4199
Golden Girls Softball League