Memorial Day Ceremony
Monday, May 29, 2023
6:00 p.m.
Memorial Garden
5111 Benito Street, Montclair
(located adjacent to City Hall)
Join us for Montclair's annual Memorial Day Ceremony, where we will be honoring the individuals who have plaques on our Veterans Memorial Wall.
Event will feature patriotic songs, readings and refreshments.
This event is sponsored by the Montclair Community Activities Commission.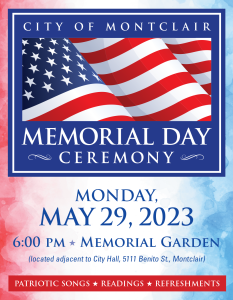 Veteran's Memorial Wall
The Community Activities Commission is accepting new submissions for plaques on its Veteran's Memorial Wall. The cost is $375 per veteran's bronze plaque, with checks made payable to City of Montclair. Application and payment is due February 24, 2023.
Please mail or deliver complete applications and payment to the City of Montclair, Attn: Angela Franco, 5111 Benito St., Montclair CA 91763 or fax to 399-9751. Once your application is received, we will contact you to verify your plaque's information.
New plaques for the Memorial Wall will be dedicated on Memorial Day, May 29, 2023.
The Veteran's Memorial Wall pays tribute to deceased Montclair veterans from all branches of service whose families honor them by purchasing plaques. It remains an ongoing dedication to those who served our country during war or peacetime.
For more information please call (909) 625-9457.