Splash Pad is closed.

Please check back for information on the 2023 Splash Pad operating season.
Montclair residents, with summer fast approaching, we know the youth of our community are looking forward to using the Splash Pad at Alma Hofman Park. Each season, for the health and safety of Splash Pad users, the City evaluates, repairs, replaces and upgrades all water filtration and purification systems. This year's upgrades to the Montclair Splash Pad include a full replacement of the soft-tile flooring and repainting all contact surfaces.
Unfortunately, despite an early effort to ensure the operational safety of the Montclair Splash Pad, vendors for electronic components for the purification system have been unable to acquire the necessary parts from manufacturers. Therefore, the Montclair Splash Pad will not reopen on May 27, 2023, as scheduled. Montclair is committed to bringing the families of our community unparalleled summer enjoyment, including the Country Fair Jamboree on Saturday, June 3, 2023 at Alma Hofman Park. We are also committed to making every effort to get the Montclair Splash Pad operational as soon as possible. Please visit the City of Montclair homepage and social media accounts for updates on when the Splash Pad will reopen. We regret this inconvenience and thank you for your understanding.
For nearby Splash pad options, please visit the City of Chino's Splash Pad at Monte Vista Park, opening on May 27 from 11am-6pm. More information can be found on their website: https://cityofchino.org/Facilities/Facility/Details/Splash-Pad-7
If you are looking for other fun activities this summer, please contact the Human Services Department for more information on the Summer Day Camp and the Montclair After-School Program Summer session, please call (909) 625-9479.
The Splash Pad at Alma Hofman Park operates during the summer from the weekend of Memorial Day to Labor Day. Hours of operation are subject to change due to unsafe weather conditions, maintenance and repair, or drought restrictions and regulations.
When visiting the Splash Pad, please be sure to wear proper swimming attire. Water shoes are highly recommended. Don't forget your sunscreen, too!
Splash Pad Rules:
Swimwear required for Splash Pad! No cotton, denim, or gym shorts allowed.
Swim diapers required for children 3 years of age or younger.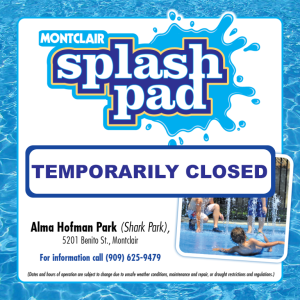 For more information, please call (909) 625-9479 or visit https://www.facebook.com/MontclairParks